We pride ourselves in the quality of our work, which is achieved with the latest technology in carpet cleaning. DSA hires and trains men with experience in carpet and upholstery maintenance. Do you have a damaged rug or a carpet that needs repairing? We have the solution. Our team inspects the rugs and works on the problem immediately. Our technicians can deal with carpets of all sizes and value, as they are not limited by this. We will always use the right materials to accomplish the best results. 
We start by taking a photo of the carpet in question. You can send us a picture of the rug and the affected area. After that, we assess the damage and determine the right treatment. We will possibly have to go to your house to check the carpets through our own mechanisms. Once we're done with the inspection, we are sure whether the carpet requires cleaning or restoration. Carpets often suffer moth damage. We will give you details about the problem and will put forth the solution. 
We will give you an estimate after the evaluation. It is the same procedure for carpets and rugs. DSA Cleaning Company has a comprehensive workshop that enables it to restore all types of rugs and European tapestries. We also clean and restore antique and contemporary rugs and carpets.
We actually repair invisible holes, burns, and tears. We use techniques to detect those holes that look unperceivable but ruin the appearance of the carpet. Once the hole or tear is detected, we proceed with the repair and restoration. Most of the times, the problem is in the selvages and stoppers. For your peace of mind, we take special care of the edges and fringes.
DSA Cleaning Company likewise re-weaves and re-piles areas deteriorated by moth. This means we offer cleaning and restoration. Don't worry if it is an old rug. We will use the exact color and wool to match the original colors of the carpet.
Dyeing Colour Repair
Dsa Cleaning Company is proud to be one of the cleaning companies in Glasgow to use the latest dyeing color repair. Is your carpet discolored and you think it is no longer useful? Change your mind. We provide carpet and rug dyeing with the latest technology. We also offer bleach spot in Glasgow South and other Glasgow areas. Our services are unavailable out of these regions.
DSA Cleaning Company distinguishes itself for developing their own dyes, which do not come off rapidly. Our dyes are intended to last for many years and guarantee the life of the carpet. In other words, they are permanent. They also permeate quicker into the carpet's fabric.
Our dyeing color repair consists in the restoration of sun faded colors and the removal of dye bleeding. We pay attention to details that are generally caused by inappropriate cleaning and flooding.
We use an airbrush to recreate the actual colors, tones, and hues of rugs and carpets. Our airbrush works for matching almost any color that has faded off. In this way, we bring your rugs and carpets back to life!
Are you thinking of replacing your carpet because it is too old or the colors have sun-faded? There's a solution. Our experts provide a more cost-effective solution that guarantees excellent results. If your carpet was dark, we will make it dark again. If your carpet was light-colored, we will make it light-colored once again. Carpet replacement costs an arm and a leg.
Our dyeing services prevent unnecessary carpet replacement. As long as your carpet is woolen or nylon or the fibers are still OK, we think we can dye it again. We will check and do the inspection work before to determine whether or not dyeing is viable.
Carpet Protection
Regarding carpet protection, we also sell protection films or adhesive to protect carpets from foot traffic, stains, spills, and more. DSA provides you with the ultimate protection for carpets, even if they are made of wool.
We provide protection films that avoid damage caused by dirt, dust, and light maintenance debris. We provide perfect protection for your DIY carpet projects if you are a DYIer. Not only do we undertake restoration tasks, but we also participate in the decoration of carpets and carpeted floors when needed. Do you have pets and don't know how to tackle muddy paws? There's a solution for everything in life, and carpet protection against muddy paws is not an exception.
We clean and protect carpeted floors. If your floor is fully carpeted, we offer synthetic carpet floor covering that does not cause allergies and gather dust. Besides synthetic carpet floor covering, we also provide natural carpet floor coverings. These products are suitable for carpets made of wool or other materials. We will let you know which covering is more workable for you.
DSA Cleaning Company also offers economy grade carper protection film, yet this is not applicable to wool carpets. Some techniques and products are not up to all carpets. Our experts make an assessment to determine which film works best in each case. Entrust that job to us.
We offer long-lasting carpet protection. Most carpet protection films have a life of 30 days but can be more durable. There are films that provide short, medium, and long-term protection, and we provide them all. We will cover your carpet according to the material and antiquity. Usually, carpet films are designed to provide short-term duration to synthetic rugs. Hence they are not suitable for wool carpets.
Our films are top-quality and designed to have a long life. We also give you tips for using the films and removing them when their expiration time approaches. Before the film application, we get rid of the dust, dirt, grease, oil, and other foreign matter that disturbs our work performance. We clean your carpet and implement the corresponding treatment.
Carpet Inspection
Whenever you need carpet inspection, choose a company experienced in this field. DSA Cleaning Company is a recognized business that has been up to the challenge for around 15 years. Most of our competitors have over 20 years of experience, but we have worked harder to achieve customer satisfaction.
Carpet inspection comes before carpet repair. Normally, we go to the customer's home for the carpet inspection, after we revise the requirement form you've filled out on your site. The form sheds light on the problem and the blemish types. After the form review, we travel to the customer's home to check the carpet. We give you an estimate that varies depending on the actual job. Carpet inspection comes before any restoration or maintenance job.
Additionally, our professionals are versed in floor maintenance. As you may know, floor and carpet maintenance go hand in hand. Floors and carpets are exposed to things, like pet hair, spills, and water. We focus on carpet cleaning, anyway.
Apart from that, we repair upholstery. We check for possible stains, spots, and spills on upholstered pieces. We use the right techniques for identifying issues on carpets and upholstered items. We are very organized and follow up the protocol.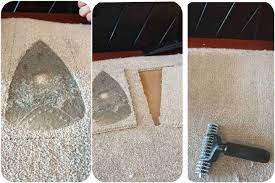 For inspections, we leverage innovative and trademarked technology. We have innovated our cleaning and inspection technology over time. DSA Cleaning is committed to provide the best cleaning and restoration service in Glasgow. To attain this, we utilize the right tools to satisfy the most demanding customers.